WP Robot is a new word press plug-in that provides you with several ways to automatically post articles and even amazon products on a daily basis or even hourly basis. I mean common cant get any easier then that, This is a must have for all of my readers.
WP Robot is a premium auto posting plugin for WordPress weblogs allowing users to add unique and fresh content to their web blogs easily.
1.?
Amazon

Module

This module helps to create posts about Amazon products based on the keyword you will specify in it?s options mode.It also adds all reviews found on the amazon product page to the post as comments. This will help you to make good amount of money by referring products of amazon. ? $35
2.?
Article

Module

This is one of the very important module of all. It allows you to post
articles on
your blog automatically based on your keywords you specify. The
articles are taken from ArticlesBase.com and it is linked to the author URL thus you don?t have to worry about the Copyright law. – $25
3.?
eBay

Module

Similar to Amazon Module, this module adds recent or popular ebay
auctions based on the keywords you specify to it. You can add a maximum of 6 ebay
auctions in a post. So simply this module will help you make money with ebay affiliate program. ? $15
4.?
Clickbank

Module

Clickbank Module is my 2nd favorite module from all the modules. This simply posts the feed ads from clickbank.com to
your blog. You just have to specify your clickbank affiliate ID and the keyword on which you want the ads to be published on
your blog. – Free*
5.?
Yahoo Answers

Module

As you know many people search for the information about their questions or problems on search engines and many of those questions are also asked at Yahoo! Answers which is a very popular site. So this module posts questions as well as their answers from Yahoo! Answers to your
wordpress blog. Thus it will help you to create a good amount of traffic for
your blog if it ranks good on the search engines. – $20
6.?
Youtube

Module

This module easily posts Videos from popular video sharing site; Youtube, to
your blog based on the keyword you specify. Thus it will also help you to bring a good amount of traffic from search engines as nowadays people have a huge craze of watching different kind of videos. ? $15
7.?
Translation

Module

This is the last module of this plugin. This actually translates any content created by other modules except eBay module. The translation module uses the translation services from Google and Yahoo to translate posts automatically. ? $15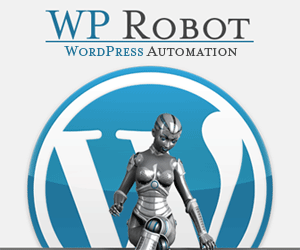 This whole plugin comes in 4 Edition:
The Full package costing only $110(you save $30)
MONEY MAKER EDITION which includes amazon,ebay and Clickbank module to help you make money with
your blog. It costs just $55(you save $10)
Content Edition includes Article, Yahoo Answers, Youtube and Clickbank modules for your content needs. It will cost only $60(you save $15)
The last is Custom Edition i.e you can select on your own which module you need and pay for only them.
WP Robot requirements:
– WordPress 2.7+
– PHP 5
– cURL
Automatic Blogging is really a powerful tool of many successful
affiliate marketers. You can be one of them. So choose Wp-Robot for best
WordPress Automated Blogging Experience.