Whos isTyler Cruz you should ask well ask no further"? Tyler Cruz is a web publisher and entrepreneur. He makes His living by creating and building websites and selling advertising on them. He also occasionally dabble in other online entrepreneurial areas such as domain and website flipping and domain brokering.
Hes 23-years old and reside on the beautiful island of Vancouver Island, in beautiful British Columbia, Canada."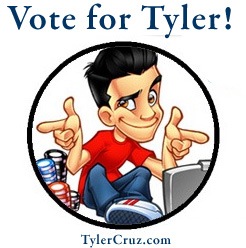 Everyone this is a great chance to win a contest not that hard just takes some effort i mean come on people lol. Reason why he should win is cause hes a great guy i mean look at the pic lol.
http://www.tylercruz.com/vote-for-me-win-100/
Tyler is running against Gyutae i really think tyler will win cause tyler has way more friends alos his blog is way nicer and his alexa is 20k or less
http://www.winningtheweb.com/tyler-contest-vote.php
Come on people vote for tyler cruz today hes gonna be the next john chow of blogging!!
The contest runs for 11 days from January 3rd at 12:00am Pacific (3:00pm Eastern) to January 14th at 6:00pm Pacific (9:00pm Eastern).
Rules & Guidelines
Please write a minimum of 300 words in your blog post.
You must link to the winner?s site (and when you mention the contest, both TylerCruz.com and WinningTheWeb.com)
You may vote for only one person, either Gyutae or me.
You may only win once; if you name gets drawn twice, we will draw again.
?TylerReviews? are not eligible for this contest.
Tyler is a unique blogger i think he should win cause this guy "Gyutae" His blog is crap i see no reason for his blog to win his layout colors are way off unlike tylercuz.com his blog is very pro look to it also updates every day always new things to see and has lots of rss subscribers!!