For any business owner, you know how important it is to maintain a solid and reputable name on the internet. Not only do most people search for potential companies online, but they will judge a specific business according to its reviews, customer service and what other people have to say about their services.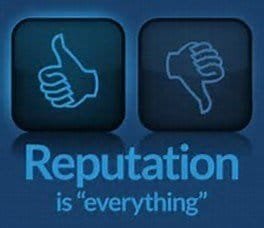 Here are some measures you can take to maintain your name in the online world:
Why Your Brand Name and Reputation is Important Online
The reason you need to maintain a solid reputation online is because this is probably where you'll be making most of your business. If your company is solely based on the internet, you could lose hundreds or even thousands of customers just because of a bad reputation. Even companies that are more locally-based need to have a solid online presence because the majority of your customers will first look you up online before visiting your physical location, office or store. If your reputation is tainted online or if you haven't made a name for yourself at all, it'll be difficult for customers to want to make use of your services.
Provide Superior Customer Service
In order to maintain your name in the online world, you need to provide superior customer service. This means that you need to respond to clients when they call you or send an email in a prompt and professional manner. This also means that you need to handle bad situations as quickly and professionally as possible. While it's easy to snap at someone who leaves a negative review about your business, this won't look professional and can deter others from utilizing your services.
Erase Bad Reviews or Online Embarrassment
Negative reviews and embarrassing online situations, like an argument you had with a customer, can taint your otherwise solid reputation. You need to try to get rid of negative reviews and erase embarrassing situations that others are able to find easily. There are two ways for you to remove bad reviews: you can ask the reviewer what you can do so that they change their rating or you can hire a service that will write hundreds of positive reviews to outweigh the negative ones.
Marketing and Advertising
Both marketing and advertising are crucial when you own a business. If you fail to market and advertise your company, you're going to have no reputation or name at all. There are several ways that you can market, and these include search engine optimization, brochure handling, business card creation and affiliate exchange. If you are unsure of how to market your own business, there are many companies that will be more than happy to handle the project for you for a small fee.
Link Exchange and PPC
Link exchange refers to exchanging links with a fellow business owner who might offer similar services or products as you do but is not considered competition. You do not want to exchange links with a competitor because you might lose business this way. PPC, also known as pay per click, will help you to reach out too many different customers so long as your link is active on PPC platforms.
Social Media Integration
Millions of people all over the world use social media pages regularly, which makes it a wonderful platform for those who have businesses. It is free to create a social media page, and a small fee for you to run a social media campaign. Campaigns are targeted to a specific demographic, so you are reaching out to people who will want to make use of the products or services that you are offering. There are dozens of social media sites that can help you to get your name out there and maintain it in a competitive online world. Take advantage of it like Youi did to generate a loyal brand value.
Website Creation and Maintenance
In order to maintain your name and reputation online, you need a good website that is both easy to navigate and looks professional. Most people will want to visit your site to learn more about the products or services that you offer before they make use of your company. If your site looks unprofessional, is not kept updated or is difficult to navigate, this will deter these individuals from making use of it, which can result in lost money and a decrease in customer flow. If you do not know how to create or maintain a site, a website design service can perform this work for you and work to get the site maintained regularly with all of the latest designs, plug-ins and search engine optimization trends.
Create Profiles and Portfolios
If you do not currently have a business profile or portfolio, now is the time to create one. The portfolio showcases what you offer, your experience within the field and the type of work that you do. These profiles can also be found quickly on search engines, which means that it will be one of the first things your clients see when searching for either your name or company name. It is also mostly free for you to create one of these portfolios, especially when using one of the more popular sites online.
When you take steps to maintain your name in the online world, you are able to increase business and revenue each day. Maintaining your name not only means that you need to keep sites and blogs updated, but it means that you need to be well aware of what is being said about your business behind the scenes. Even one negative review can affect your company in a negative way and deter dozens or even hundreds of people from making use of the products or services that you sell. It is imperative that you take a professional and relaxed manner when maintaining your name online, as even one argument with a negative customer can result in backlash from many of their friends or relatives, tainting the reputation of your business greatly.