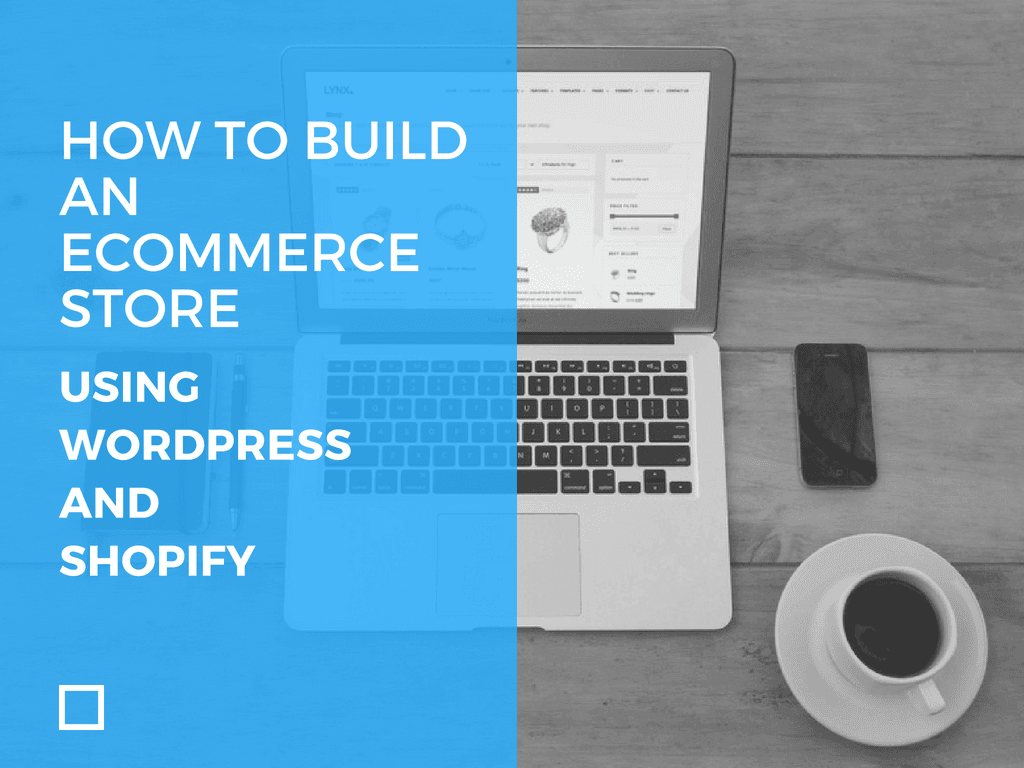 If you are planning to open an online shop but you do not want the hassle of having to build a site from scratch, then coming up with a WordPress eCommerce Store using Shopify is the best option for you.

Why Use Shopify with WordPress?
Shopify has one goal: to help anybody who wishes to set up an online store (even those without the technical knowledge) do so.
Coming up with your own online shop on WordPress can be a challenge as it requires a lot of technical skills. Shopify addresses this issue and helps you come up with an easy-to-setup and easy-to-maintain e-commerce site.
Aside from helping aspiring but less tech-savvy online shop owners, Shopify also features a lot of benefits such as a secure shopping cart, 70 payment gateways, inventory management, and various shipping options. Shopify is also available in many different languages. Shopify can also help you manage a physical store with a POS app and a reader.
If you have already had your own WordPress site, you can integrate it with Shopify so that you may enjoy its benefits while maintaining your own domain and this guide will help you do that. Otherwise, you may use Shopify?s hosting services.
Shopify is definitely a handy eCommerce solution for those who would like to engage in the selling business.
Integrating Shopify with WordPress
Get ready to make the best of Shopify and WordPress by following these steps to make these platforms work in your favor:
Step 1: Create an Account with Shopify
The first step that you should take is to create a Shopify account. Simply go to the Shopify homepage and then click the ?Get Started? button that you can find on the upper right-hand side of the page.
You are provided a free trial option so paying is not an issue now. You will be required to provide an email address, a password, and your store?s name. Give yourself some time to think of a great name for your store. Make it catchy but smart.
If you are done, simply click the button for proceeding. Fill up the other requested information about the shop and yourself. Once done, just press the button to complete the process.
Step 2: Integrate the Shopify eCommerce Plugin
Now that you have your Shopify account, it?s time to integrate it into your WordPress site.
Go to WordPress? plugin directory, then install and activate the WordPress plugin for Shopify Ecommerce. It?s that easy.
Step 3: Connect Shopify to WordPress
After having activated the Shopify WordPress plugin, a new menu item will be added to the backend of WordPress. Click on it to set up your account on Shopify. Simply input your shop?s address and then hit Connect. You can find your Shopify?s address on the browser bar while you are logged in on Shopify.
Doing this will automatically connect your WordPress site to Shopify. You will then be taken to the eCommerce platform so you may confirm the page, then you will be taken to your site so you may set up various Shopify settings.
Step 4: Add Products to your Store
Now that you have a store, you can now fill it up with your merchandise!
Simply click on the add a product button so that a product page may open. Input a title for the product and provide a product description. Don?t forget to place the price, as well as images of the product. Do this for all the products you would like to sell on your shop.
Step 5: Set up Payment and Shipping Options
As previously mentioned, there are many payment gateways that Shopify support. Some of these are Authorize.net, Paypal, and Stripe.
Shopify will use your email to sign up with Paypal Express by default. You have the option to change this email address to something else. Should you wish to make use of other payment methods, simply select them to be connected.
Afterward, you?ll need to set up your shipping options. Proceed to the Shopify settings page, then click on the ?Setup Shipping? button. On this page, you can easily set up shipping options that can be based on price and on weight. You would also be able to offer free shipping, then zones to be used for international shipping
Alternative options
The internet is a giant melting pot of information and tools for anything and everything you can think of, making it possible for determined entrepreneurs to find effective ways to earn a living even without substantial business knowledge.
If you think you have the knack to explore other e-commerce options and have the budget to play around with, you can also set-up your own e-commerce store by mastering your way through programming and creating your own platform. Building an ecommerce store is now easier, and there are tons of guides out there to help you out. Here are a few to get you started:
First Steps in Managing Your E-commerce Store
Now that you?ve set-up an e-commerce store, what?s next? Just like any other business, setting it up is just the tip of the iceberg. Making it flourish and earn money is the real challenge.
There are a number of techniques to spread the word about your e-commerce business and to attract customers into visiting your website. Shopify has a great guide on those looking for ROI in their first 30 days with their guide here. But if you have time and luxury to try out different marketing techniques, their 50-step guide on making your first sale can help you from social media to offline marketing.